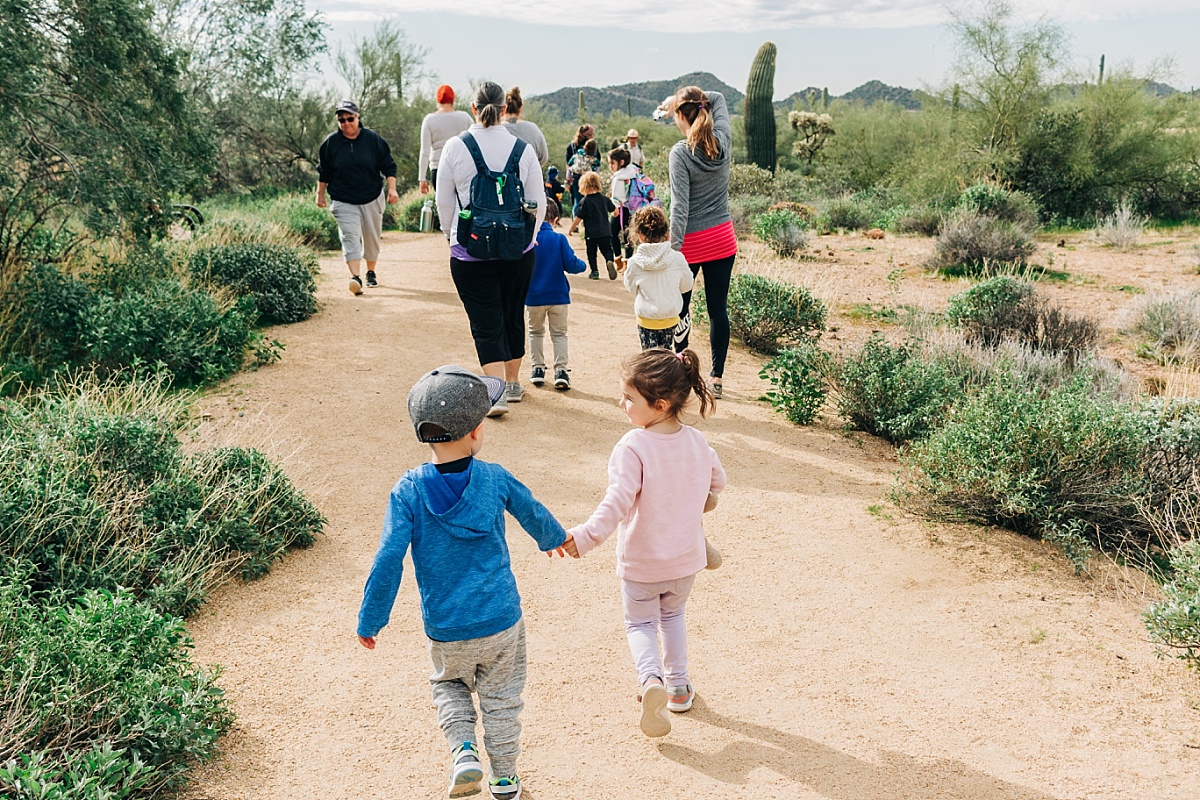 Usery Mountain Toddler Cruise | Fun Things to do with kids in Arizona
Usery Mountain Toddler Cruise | Fun Things to do with kids in Arizona
A friend invited me to the Usery Mountain Toddler Cruise in January and I'm so glad we ended up going. It was so much fun and a nice change from our usual day to day.
The Toddler Cruise is a recurring program at Usery Mountain Regional Park and is described on their website as "Young children will learn about some of our desert animals! This 1-mile hike is designed for parents and caregivers with small children, ages 3 – 6.  Along with Ranger B, kids will howl like coyotes, do the "bobcat crawl" and learn how to drink water in a fun way!  We'll explore the desert along the scenic Merkle Trail.  The hard-smooth surface of this trail will accommodate wheelchairs and strollers.  Please bring water, hats, and closed-toe shoes.  Meet at Area 6."
The Hike
The hike itself was super easy, nothing more than an easy stroll through the desert and perfect for strollers. But hands down the highlight of this program is Ranger B. He was FANTASTIC with the kids! If Ranger B was talking, Emi ran to catch back up so she could listen and learn about desert plants and animals. He was animated, engaging, and super patient.
Learn how to remove jumping cactus
I even learned a great new and safe way to remove Teddy bear Cactus. I wish I had known this trick during a session back in December when the poor 2-year-old in the family I was photographing got one stuck in her tights. Just carry a small comb with you so you can get under the spikes and flick it off. So much easier than trying to grab it with a blanket. Note to self, add a comb to your camera bag!
The Gulping Game
And the "learn how to drink water in a fun way" was a simple game to play with your kids when you need to get them to drink water. Simply introduce them to the gulping game where you count to 5 and they have to gulp water the entire time! Simple but SUPER effective.
Upcoming Events at Usery Mountain Regional Park
I had so much fun I can't wait to go back for some of their other programs and events. Like their Wag n Walk Dog Adoption Hike where you help exercise shelter dogs and can adopt them onsite if you fall in love. Or Crazy Ranger Stories where Ranger B shares all the silly and crazy things he's seen in the park over the years. From this one interaction I've had with Ranger B I know he's a great storyteller and this is going to be super funny!
For a full calendar of events both at Usery Mountain and other regional parks in the area visit the Maricopa County Parks and Recreation Events Page. Oh! And the best part of all these amazing activities? They only ever cost as much as entrance to the park or are free with membership! We'll definitely be returning soon.
I'd love to work with you! Please contact me to book your family session! To view more of my work and stay up to date, follow me on Instagram.