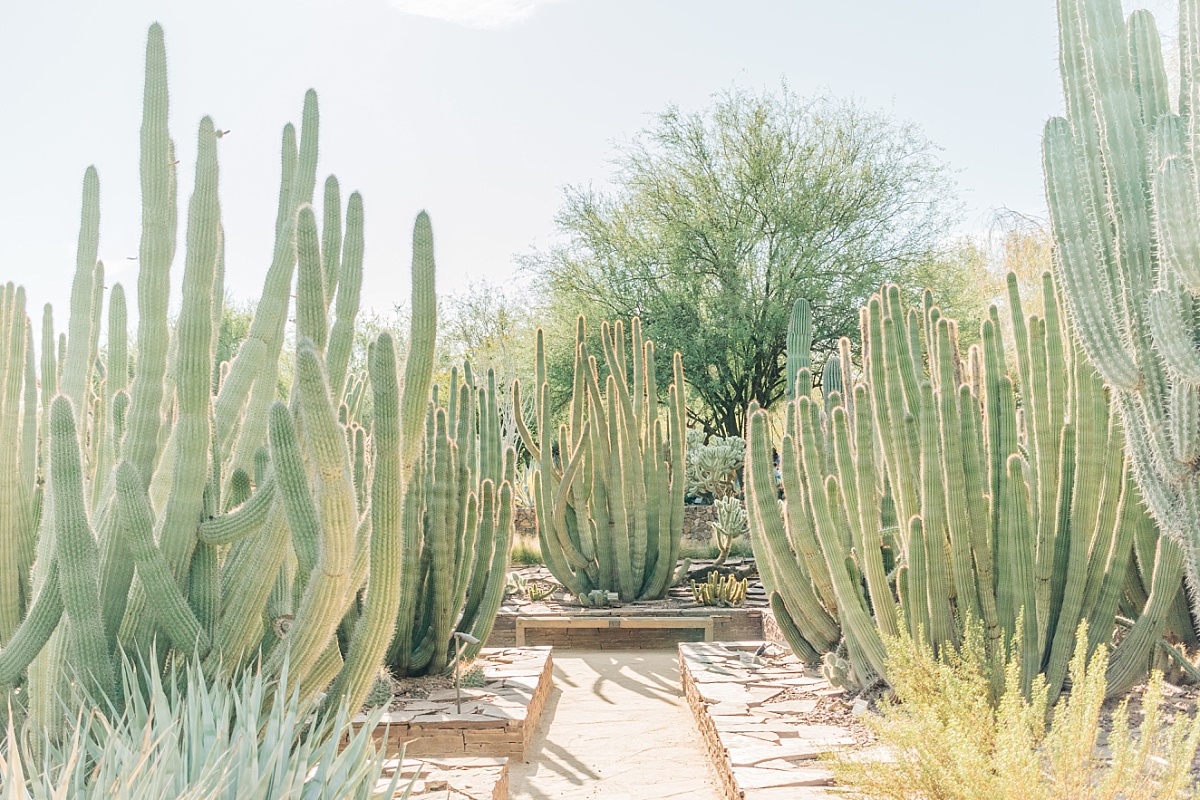 Desert Botanical Garden Community Day | Arizona Photographer
Desert Botanical Garden Community Day | Arizona Photographer
I know I've talked about this a few times now but did you know that the Desert Botanical Garden has a Community Day where admission is complimentary?
I get so excited about this because the closest thing we had to the Desert Botanical Gardens in Utah are the Thanksgiving Point Ashton Gardens and not only do they never offer free admission they charge an additional $100+ photography fee.
Since moving to Arizona I've visited the garden a few times for client sessions and always felt so bad when I showed up with no idea where to go because I'd never had the chance to scout them properly. So I decided to fix that on their very next community day and walk every trail.
Community Day
The Desert Botanical Garden Community day is the second Tuesday of each month and admission is free all day long.
We arrived around 10am and found parking fairly quickly, though I've heard the parking lot can fill up on these days. Since it was a school day I think we got lucky and it wasn't too busy yet.
When you enter the garden you can basically go two ways, to the right is the small wildflower trail which, while beautiful, isn't my favorite place, for pictures or otherwise. To the left is the bulk of the garden trails and garden features.
After scouting each trail, my personal favorites are the Sonoran Desert Nature Loop which has iconic, towering cactus ideal for photography. I also loved the Plants & People of the Sonoran Desert Loop Trail, it feels a little more natural than other areas of the garden and its a little less popular so your pictures will feel more private while still being beautiful! They even had a grassy meadow that I'm sure is a beautiful green if you catch it at the right time of the year.
Finally, my favorite place was the Cactus Garden, on the map its called the Succulent and Cactus Galleries. The cacti are situated among towering red steel structures that make the whole set up super graphic and architectural.
Exploring the Desert Botanical Garden with Kids
I was feeling pretty adventurous when we visited the gardens since I braved the excursion with two kids all by myself. To make things even more interesting my toddler was potty training. She was still in that phase of potty training that she became hyper aware when we left the house and we always spend a good third of our time out in a bathroom and I was worried we'd end up walking back and forth a lot to find bathrooms.
I was very happy to discover that bathrooms are almost as common as Cacti in the gardens. They were really conveniently placed so that I never had to worry we weren't going to make it.
Emi also really enjoyed the current art exhibit in the gardens, Wild Rising by Cracking Art, an installation of HUGE, colorful, animal statues throughout the park. You'll see a few in this posts pictures. This exhibit will only be here until May 10, 2020 so if you want to see these colorful creatures get to the gardens ASAP.
I want to go back to the Desert Botanical Garden
I'm hoping to return every community day this year, either for a client session, or just to enjoy these gorgeous gardens again. I had so much fun walking the trails and learning about the plant life of my desert home.
I'd love to work with you! Please contact me to book your family session! To view more of my work and stay up to date, follow me on Instagram.