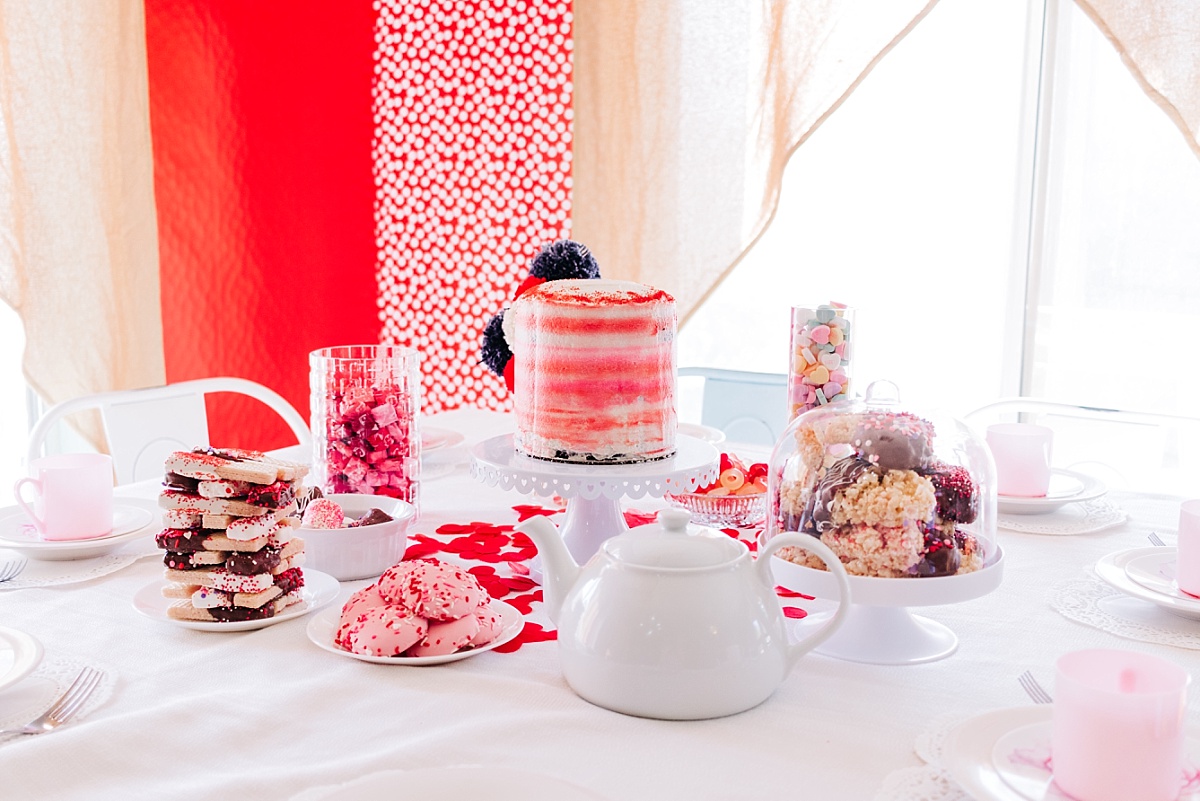 DIY Valentine's Day Tea Party
DIY Valentine's Day Tea Party
Matt and I have been married long enough for him to know that whenever I say "I have an idea" he usually follows it up with "uh-oh!" And I have to say his sentiment is probably justified. My ideas tend to be big… and because they're so big sometimes they're a big flop. But I'm so happy to say that my DIY Valentine's Day Tea Party was a major success. And the best part? It actually wasn't that hard/crazy/complicated. Here's how I pulled off this Pinterest worthy party.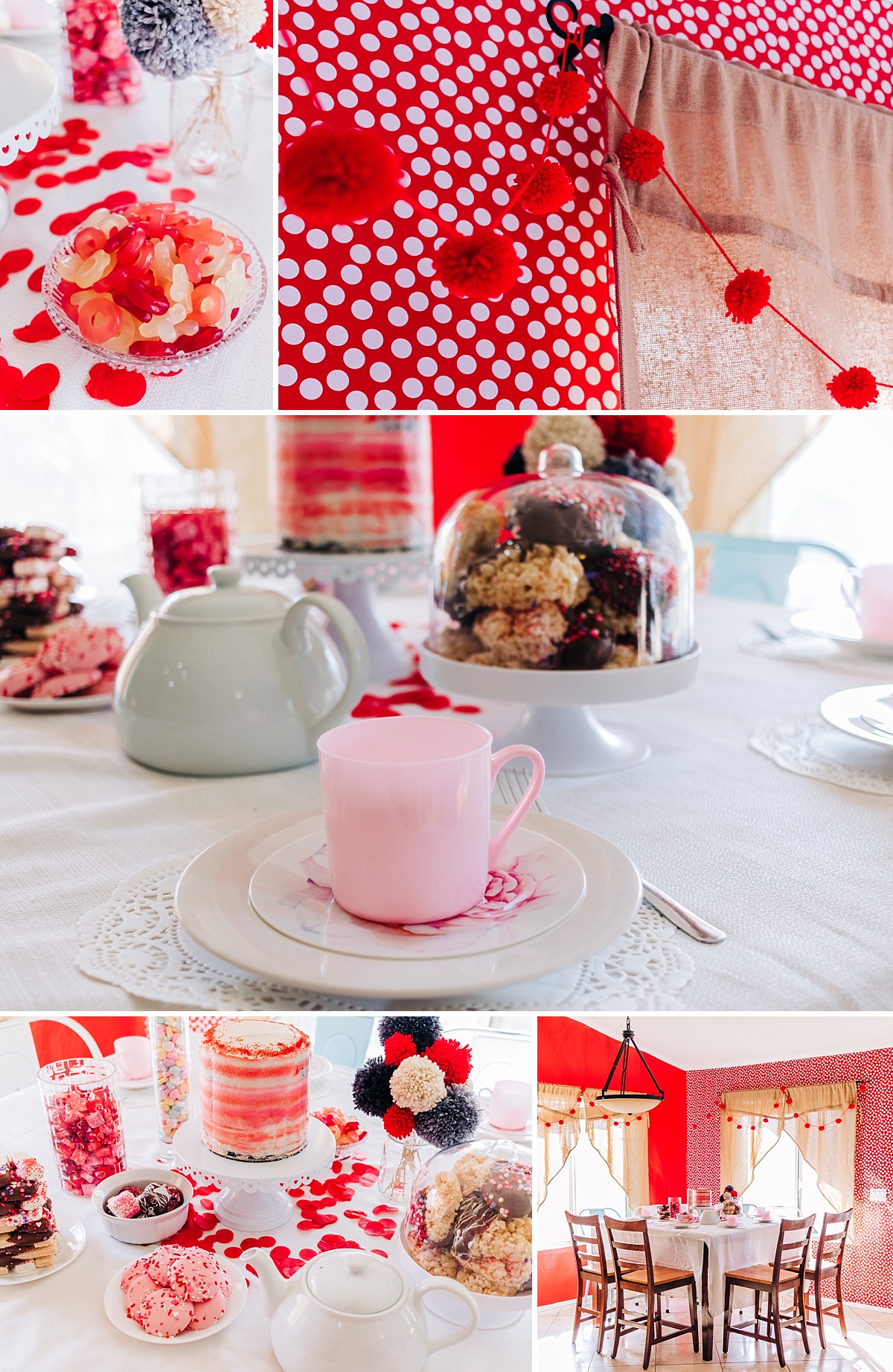 Decorations
If I went crazy on any part of this DIY Valentine's Day tea party… this is where I went totally bonkers crazy. Because I'm a photographer, aesthetics are really important to me and I knew I wanted everything to be picture perfect. If you're not a photographer and don't need to blog your party I recommend you cut yourself some slack in this department because I promise, your kids won't be able to tell the difference.
Wrapping Paper Wallpaper
Our home could use a repaint and I wasn't excited about the greeen/tan walls as the backdrop to our tea party so… I wallpapered the dining nook with the same double sided red wrapping paper I used in my Valentine's Day mini sessions I wanted to make sure it was going to work so I put it up 3 days early using that blue sticky putty and scotch tape along the edges where needed to help it lie flat. I was really worried I was going to wake up one morning only to see it fallen down… I'm happy to report that never happened! Blue sticky putty for the win!
Seriously, if we had white or off white walls i would have been perfectly happy to leave the walls bare and suggest you do! better light reflection for pictures!
Pom Poms
I used red yarn and these Pom Pom makers to make a Pom Pom garland for a fun touch along the windows. The Pom Pom bouquet was also made using these, super easy, just stick the Pom Poms on a skewer and arrange like you would flowers.
I didn't want to do too much more because I knew the food was going to make a pretty big statement all on its own. We bought the two cake stands from Target's value section, and used white porcelain and clear containers as a blank canvas backdrop for the food.
My favorite touch and best find were these plastic tea cups on Amazon! Aren't they adorable? They're plastic so I didn't have to worry about the kids breaking them, but also high quality so we can wash them and use them again or add them to Emi's play kitchen for extra dishes.
Dress Code
Nothing says tea party like princess dresses. We made sure everyone knew to dress in their princess best, but you could also do fancy "Easter" type dresses or whatever you want. But princess dresses and tiaras help everyone feel special and relly get them in that tea party mood!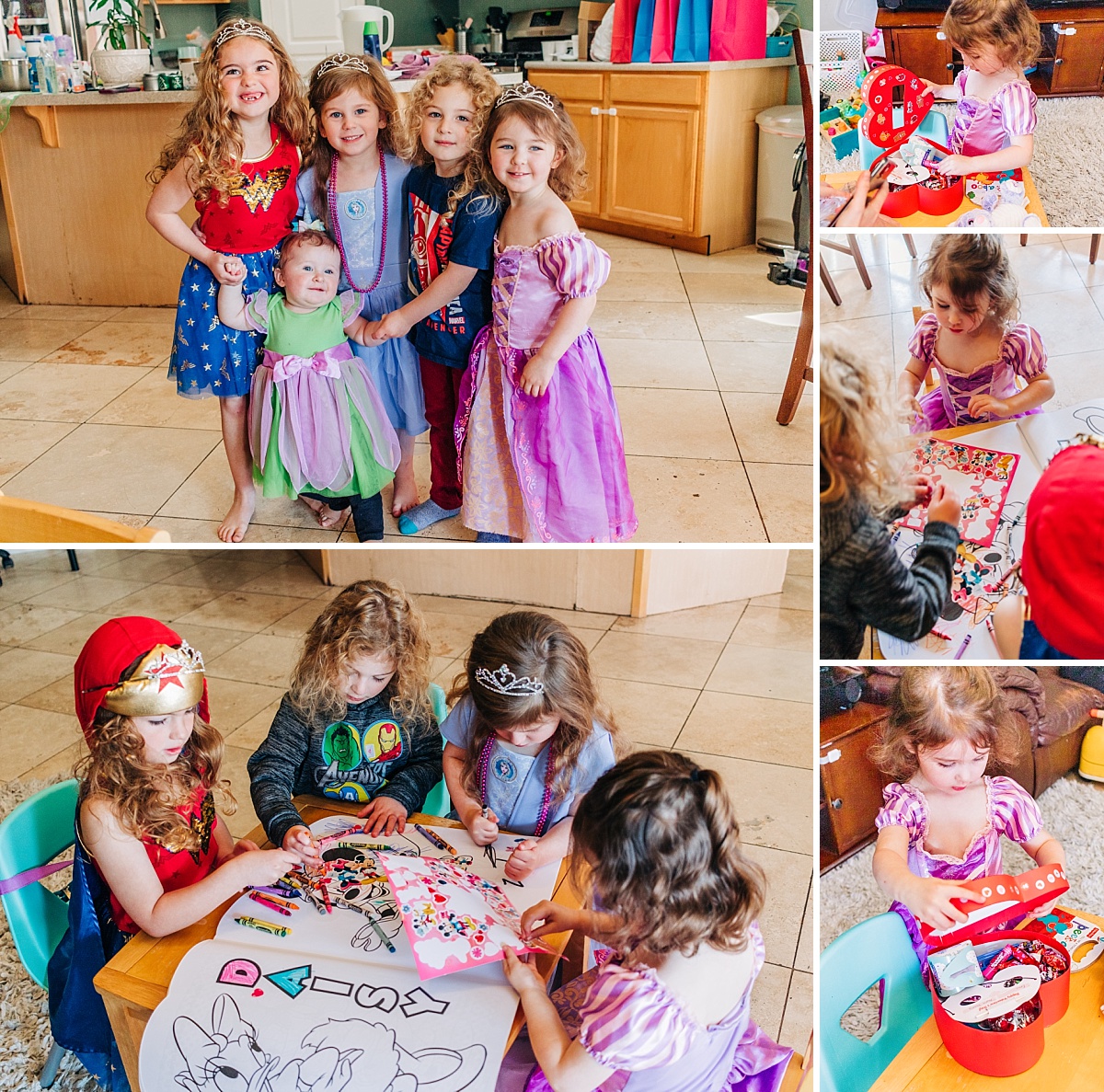 Games
The guests at our tea party were Emi's cousins ranging in ages from almost 3 to 6. I wanted to find games that would challenge the 6-year-old but still be fun for the 3-year-olds. We also didn't have any prizes for game winners; one, because we had plenty of other treats and two, I wanted to minimize the risks of poor sportsmanship and hard feelings.
I settled on these three that I found on Pinterest: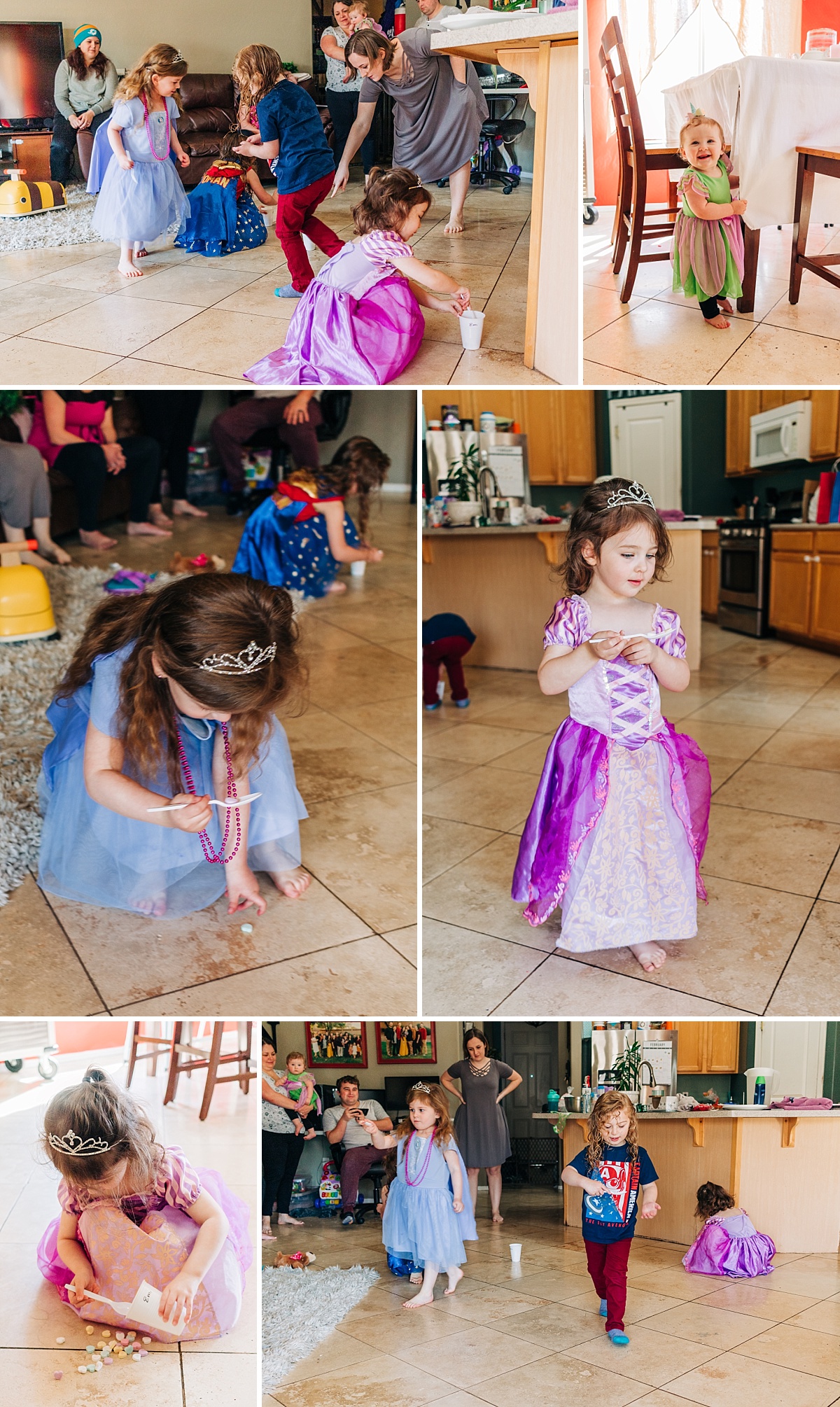 1. Conversation heart relay race
I can't find the link to this game on Pinterest but it's very simple.
You will need: two cups and one spoon for each team or player, an open space that will allow the kids to run back and forth, and conversation hearts.
Simply place an empty cup with the spoon at one end of the room, and one cup with hearts at the other end. Divide up into teams or play individually, we had each kid play individually to keep everyone involved at all times.
When you say "Go!" the kids need to grab their spoon, run down to the heart filled cups, scoop up as many as they can, and take them back to the cup at the other end of the room. If they drop any they have to the them back and start over. The first one to transfer all their hearts to the empty cup wins!
2. Candy dice game
This Valentine's themed dice game was a quick last minute addition to our party. All you need is a dice, some candy (we used starbursts but you can re-use the conversation hearts from the first game), and the printable from the link.
Roll the dice, exchange candy as directed, and first one to 10 candies wins!
Our total play time was probably around 10 minutes.
I made sure to tell the kids before they started that they would all get 10 pieces of candy at the end of the game so there were no hard feelings as candy changed hands during game play.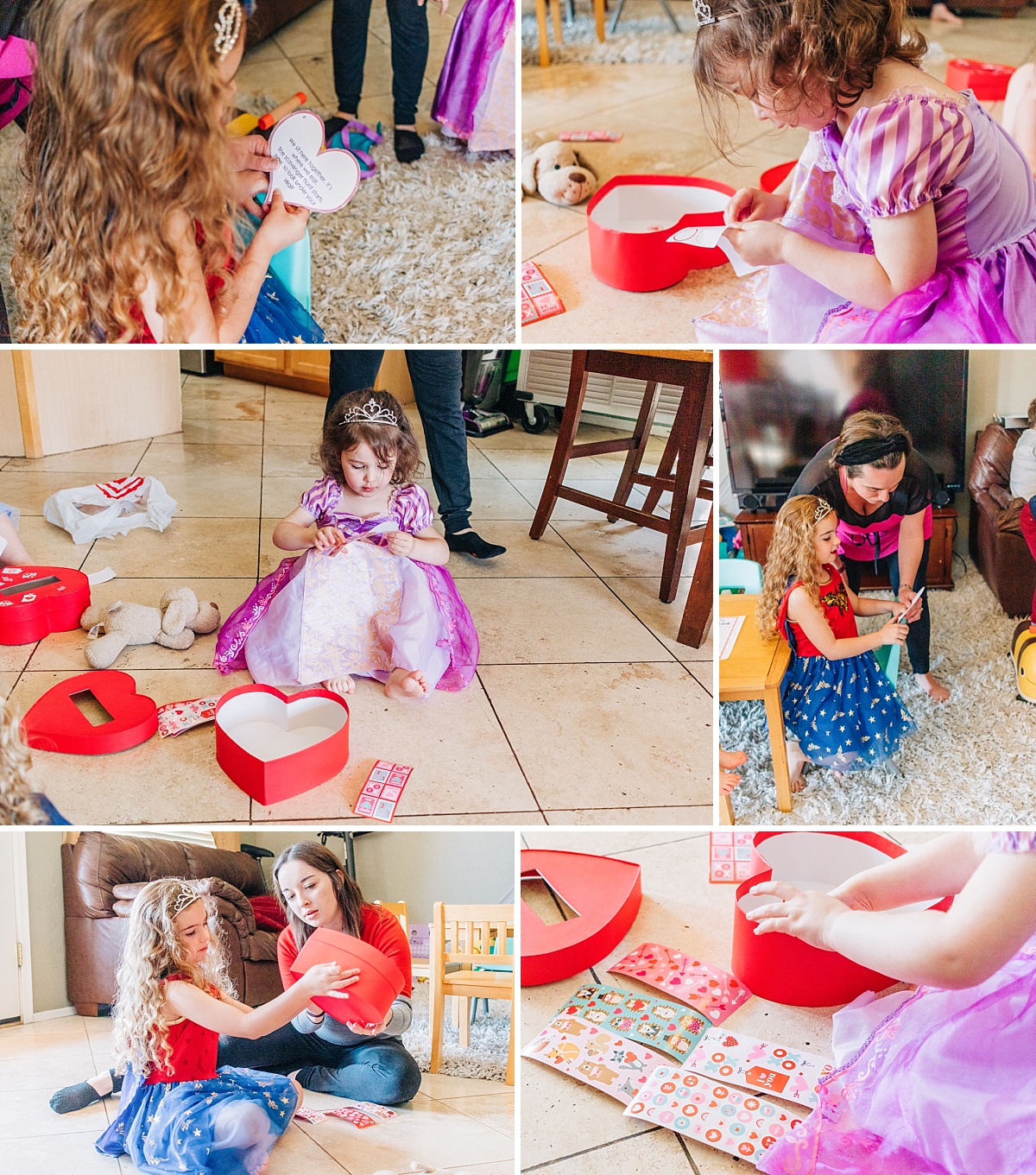 3. Scavenger hunt
The inspiration for this scavenger hunt was taken from Wunder Mom's Valentine's Day scavenger hunt.
I had to customize it since nothing existed that perfectly matched our home's set up and where I wanted it to lead. Instead of more candy/treats I wanted the final clue to lead them to our next activity, Valentine's Day mailbox decorating.
Here is a printable for the clues we used. The best part is you can use them in any order you want, just make sure you hide them in the right spots, it's harder than you think and you really have to think it through.
The kids loved running around and working together to solve the clues and find the next heart.
Valentine's Day mailbox decorating.
When we did our initial shopping trip for the party we had half a plan but were mostly looking for ideas. We found these adorable heart shaped mailboxes at Target for $3 and thought they'd be fun to decorate. We decided to keep things simple (and avoid a mess) and provided stickers for decorating.
Then it only made sense to have something to go in their mailboxes once they were done. We asked each adult member of the family to provide a valentine for each child, there are only 4 of them so this wasn't a huge ask and even their uncles who are high school seniors had fun choosing a valentine for each niece/nephew.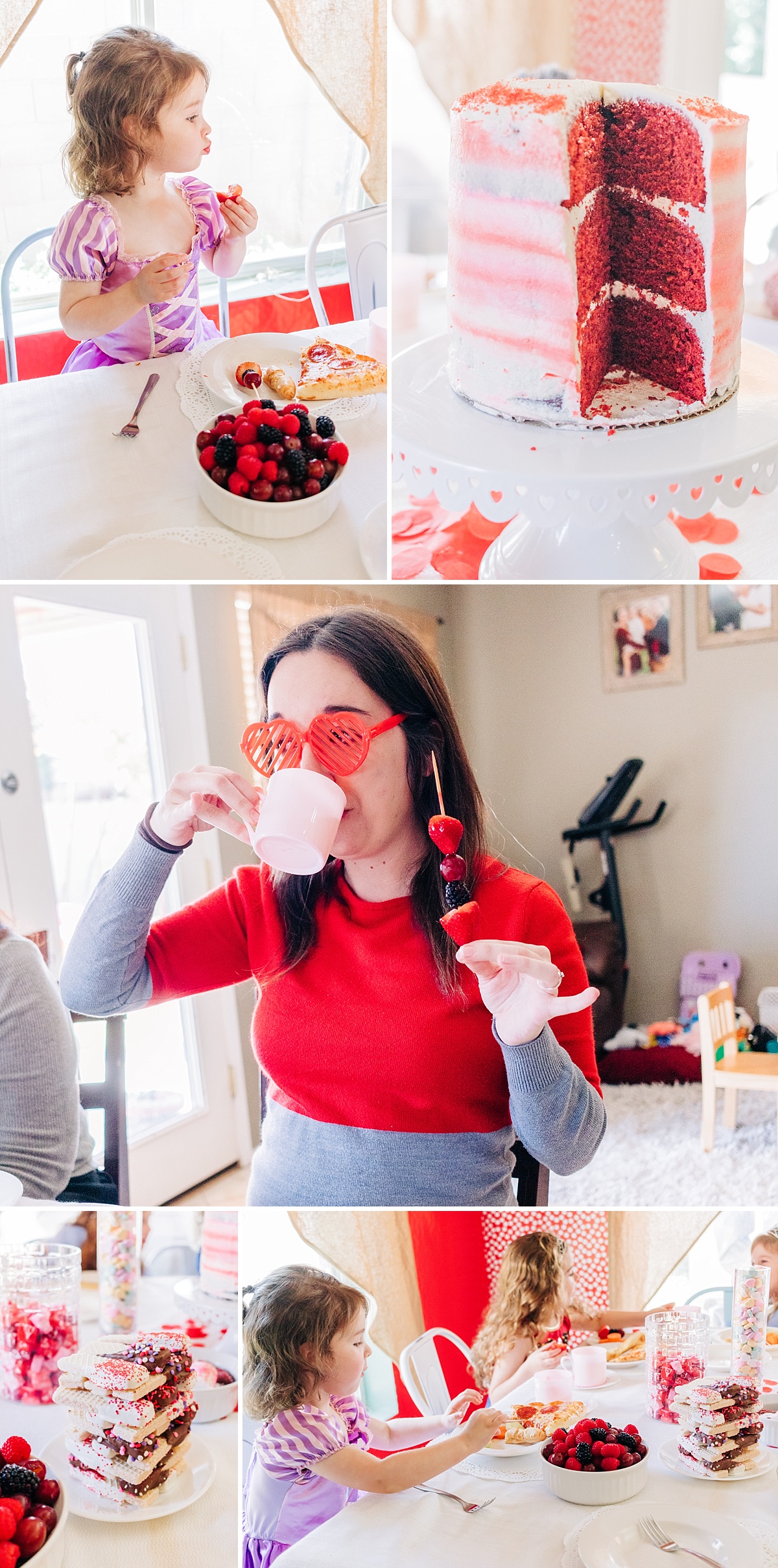 DIY Valentine's Day Tea Party Food
How do you make food that's Valentine's Day themed? You make it in the shape of a heart and decorate with red and pink.
Lunch
My original plan was heart. shaped PB & J and tortillas, but on the day of I realized I hadn't planned any food for the adults and we got a little Caesar's. Pizza instead.
To add some healthy options we had sliced carrots and cucumbers, fruit kabobs with heart shaped strawberries, and a fruit salad.
Tea
Our tea was really just welches white grape juice and ginger ale. The ratio is one 2 liter ginger ale to 1 jug of juice. This is our family go to party drink so we knew all the kids would like it.

Dessert
I'm no chef and didn't want to slave away in the kitchen so I tried to find super simple desserts with big impact.
These chocolate dipped wafers and Rice Krispie treats did the trick!
We also got some already frosted cookies from Winco and Aunt Mariah made the red velvet cake. I had a little extra dipping chocolate and marshmallows so I decided to make some chocolate dipped marshmallows.
We also had the candy from our games for them to munch on.

I'd love to work with you! Please contact me to book your family session! To view more of my work and stay up to date, follow me on Instagram.