A Birth Center birth Story from my perspective as a San Tan Valley Birth Photographer
I jolted out of a fitful sleep and franticly reached for my phone. I was on the couch, not wanting my tension and anxiety to keep my husband up. No updates. I roll over and try to go back to sleep only to rouse myself 30 minutes later and do it all over again. Finally the text comes, "We think she's getting close, head on over."
Relieved I finally get up, brush my teeth, grab my bad and I'm out the door. A quick drive on empty roads and I'm knocking at the birth center door. My client inside doing the hard work of bringing her baby earthside.
The room is dark as I set up my gear. Voices are muted, not a lot of activity. Just an experienced mama trusting her body, moving through each serge, her husband supporting her through each one. Their bond is strong and beautiful. Even if he doesn't always know exatly what to do, she is patient in helping him help her and he is eager with a hand to squeeze or to offer counter pressure.
She says she wants to get in the tub so the white noise of running water fills the silence. The temperature carefully checked and rechecked so it's perfect for baby, just in case he arrives quickly while she's in the tub.
The midwives and their assistants come in to check vitals. They work quickly and quietly, not interfearing as mama continues to work through each surge. She's in the zone. Her husband joins her in the tub to continue providing counter pressure, to hold and support her.
The sun rises and the tone shifts. It's more intense. We can all feel it, but mama most of all, she's in transition. Baby is making his way through the birth canal, he'll be here soon.
Mama asks to move to the toilet, her body feeling the urge to push… suddenly a glimpse, a crown with a shock of dark hair. They ask mama if she wants to move. She stands but there's no time. One more push and he's out.
I'm crying. I always cry at this part. A new soul is earthside. A family grows by one. Mama smiles is relief and joy, meeting her little one for the first time.
They sit there for a moment on the bathroom floor while mama catches her breath and delivers the placenta. Then its back to the comfort of the bed from an hour of uninterupted cuddles on mom.
A first attempt at breastfeeding goes well. Then finally its dads turn for some skin to skin.
Finally its time for measurements and weight. He's healthy and absolutely perfect in every way.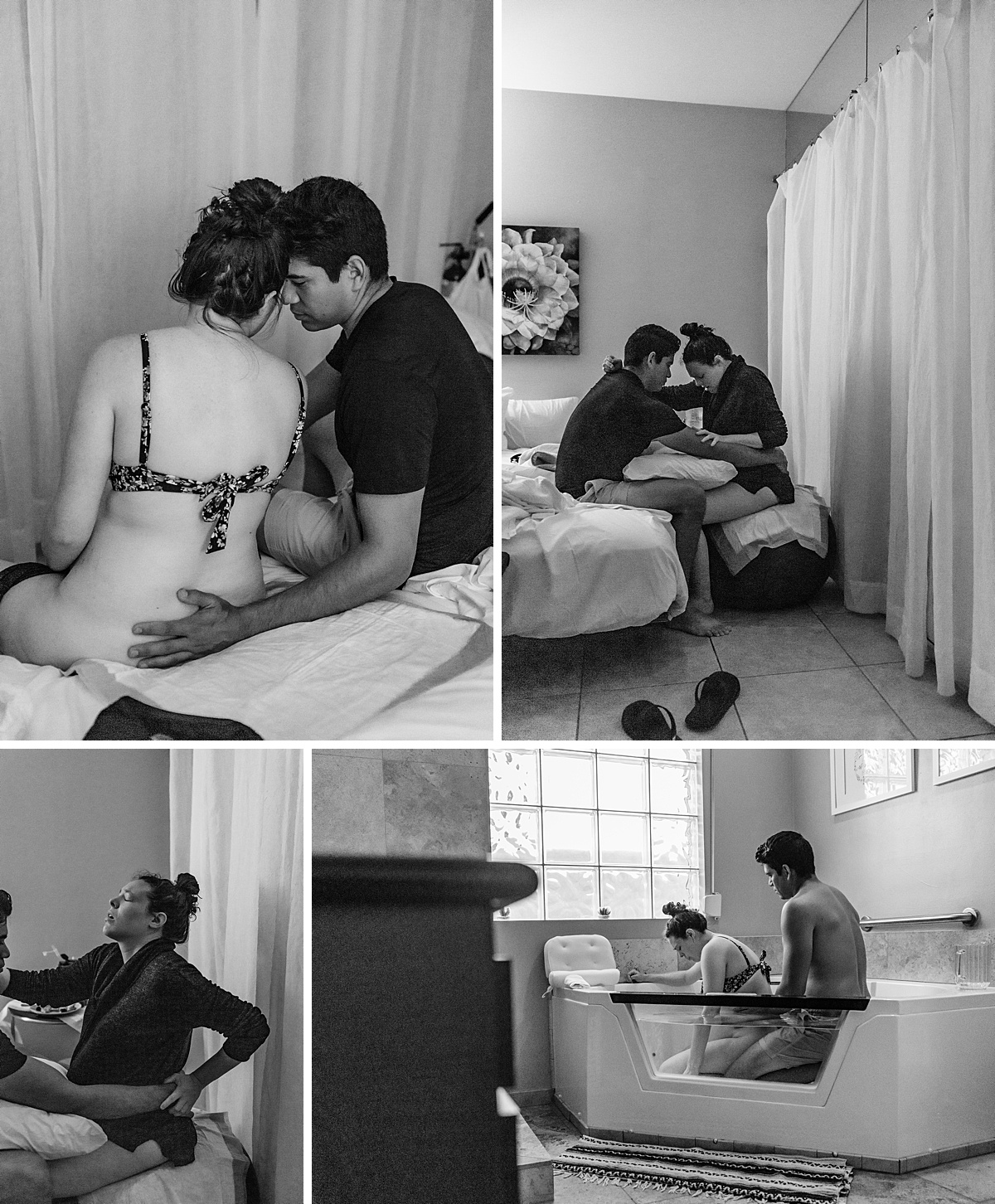 My First Birth Center Birth
Despite considering a Birth Center for the birth of my first this was my first real experience with a birth center, Blossom Birth Center in Phoenix, AZ. I immediately loved how quiet and intimate the experience was. Instead of lots of rushing around and constant monitoring everyone took a step back and trusted mom. In turn mom trusted her body and instincts to birth her baby.
If you're considering a birth center birth I highly reccomend it.
Birth Centers and Birth Photography
As a San Tan Valley birth photographer I've now seen it all, hopsital, home, and birth center births. Each are special in their own way but I think that home and birth center births are especially friendly to birth photography, just make sure you let your providers know that a photographer will be present and ask about any policies or restrictions they have that might influence your photographer.
If you're interested in hiring a birth photographer for your birth center, home, or hopsital birth I'd love to work with you. Contact me for more information. To view more of my work and stay up to date, follow me on Instagram.